---
"In every crisis, doubt or confusion, take the higher path - the path of compassion, courage, understanding and love."

Amit Ray
---
It is our hope for you; our friends, family, and clients that you stay safe during this trying time. The world changed over night and we are all effected by it.
What does this mean for the San Francisco real estate?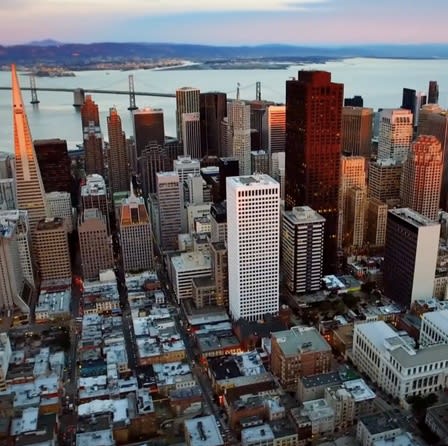 Real Estate is now deemed an essential service. However, the SFAR The San Francisco Association of REALTORS®
has recommended:
The Broker Tour is suspended for now.
Open houses are not to be held.
All showings should be conducted virtually.
We are here for you!
When COVID-19 and shelter-in-place directive started in the Bay Area, the market was very strong, and we were ready for another busy spring season. I truly believe we will bounce back in force, the question is when? June?

​​​​​​​Together with our sellers we have decided to wait listing new properties, allowing for more clarity. However, deals are still being made, and we are actively working preparing properties, arranging virtual tours and meeting with sellers, buyers and colleagues via video conferencing. We remain fully available to answer all of your questions and discuss the daily changes we are seeing as we closely monitor the market.
​​​​​​​

---
"I know this is a very challenging time for us all, but I wanted to let you know that we're confident in the future of the NorCal region".
​​​​​​​
Robert Reffkin
​​​​​​​Compass Founder and CEO
---
What's Next?
The more things change, the more they stay the same. Humans are incredibly resilient and creatures of habit. We can get used to anything over time. The natural reaction right now is to retreat, wait and see. Opportunity arrises when it is easy to see what the general consensus is. People are sitting in their homes with their loved ones and one of many topics of converstaions will be around planning and evaluating their home. Do we still like our house? Is it time to upgrade? Shall we do the renovation? The new baby comes when? Once we get out of this lockdown people are going to be ready to make decisions. The ones who have used this time wisely to prepare will be ready when the economy reopens.
Get your financing in order. Have the house painted. Do what you can to get ready.
Will values drop? This depends on the amount of inventory which comes on when the market opens back up. Will there be more inventory than buyers? Will the supply and demand dynamic shift in San Francisco? We have had low inventory for a long time and the sellers who were on the market when COVID-19 hit will want to get back out there and the inventory getting prepped will be ready as well. The buyers are out there. It would behoove buyers to have all their ducks in a row. You all know how hard it is to find a good house in San Francisco.

I can even make the argument that we will come back stronger than ever. We are all being tested now. We are all learning to expand our capacity. We have a chance to tap into our infinite potential. If having made it to the other side of a worldwide pandemic does not get you fired up, then nothing will. Plus, San Francisco is made for wild swings. We are built for rising up out of the ashes. Once we get back on the race track our engines will be improved and tuned to go harder, faster and longer. We will find a new gear.

I have been thru numerous dramatic cycles here in my hometown. Each time we came back with more energy, passion, focus and purpose. I completely believe that will happen again. We have another common bond to bring our society closer. This is a momentous occasion. We are not there yet and there is more suffering and sacrifice ahead. Together we will prevail. I am working every day to build a better tomorrow and prepare for creating success for all of you.

Please stay safe, healthy, and in touch. All the best, - Max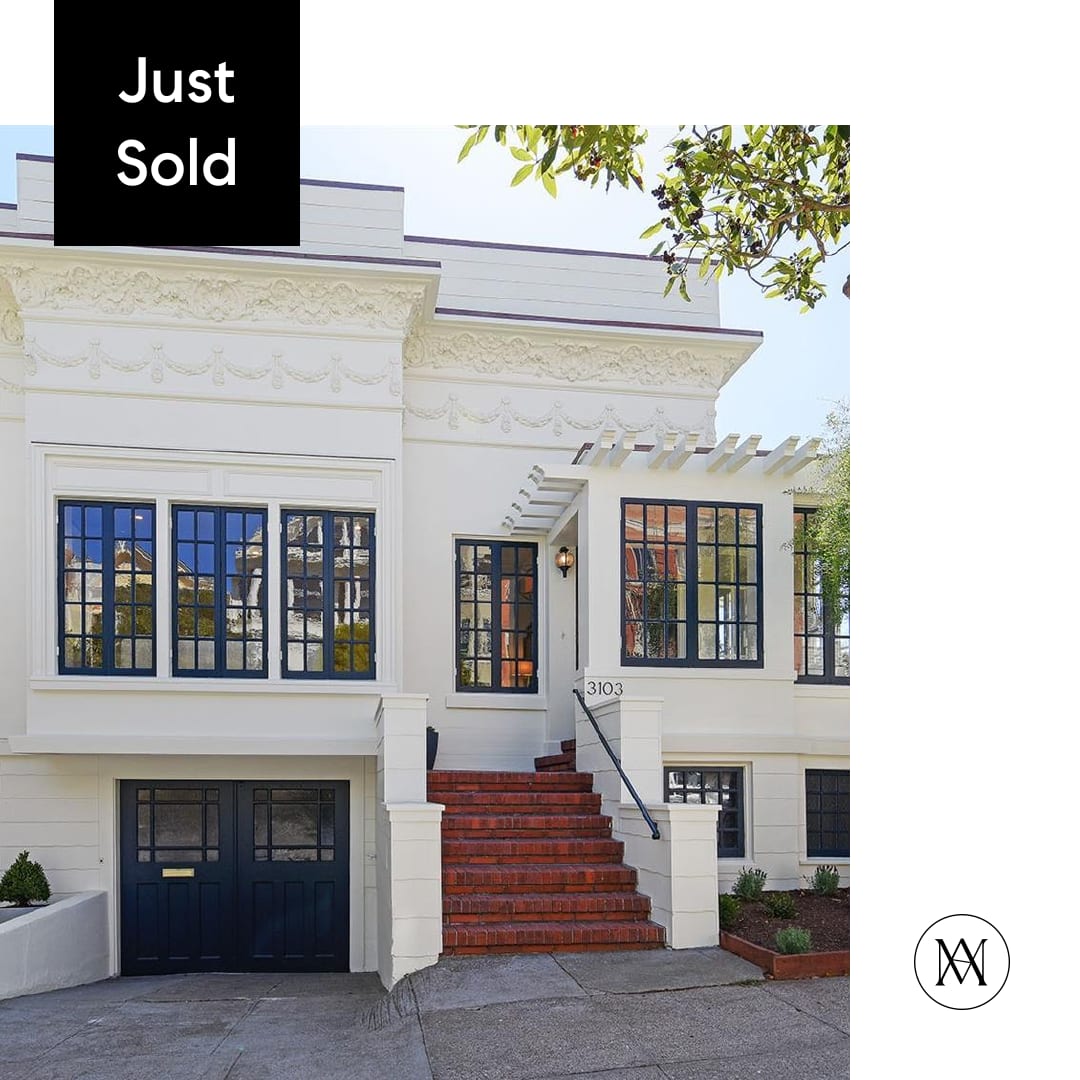 3103 Clay Street - In contract within 15 days!
​​​​​​​4 Beds / 3 Baths / Listed at $4,200,000
Market Cycles in Bay Area Real Estate
This article was written before the coronavirus – in fact, the first version was written over 10 years ago by our chief market analyst to help place the 2008 crash into context. We realize there are much more important things than real estate right now, but since some of our clients are trying to make decisions about buying and selling, we will continue to try to provide useful information on market trends and conditions. At this point, we cannot know how the current crisis will play out.

​​​​​​​This first chart is a very simplified, smoothed out look at Bay Area market cycles for higher-price-tier homes using data from the Sand P CoreLogic Case-Shiller Home Price Index. It is a very approximate overview of hundreds of different neighborhood markets - whose trends up and down were broadly similar, but whose details, such as specific appreciation percentages, varied.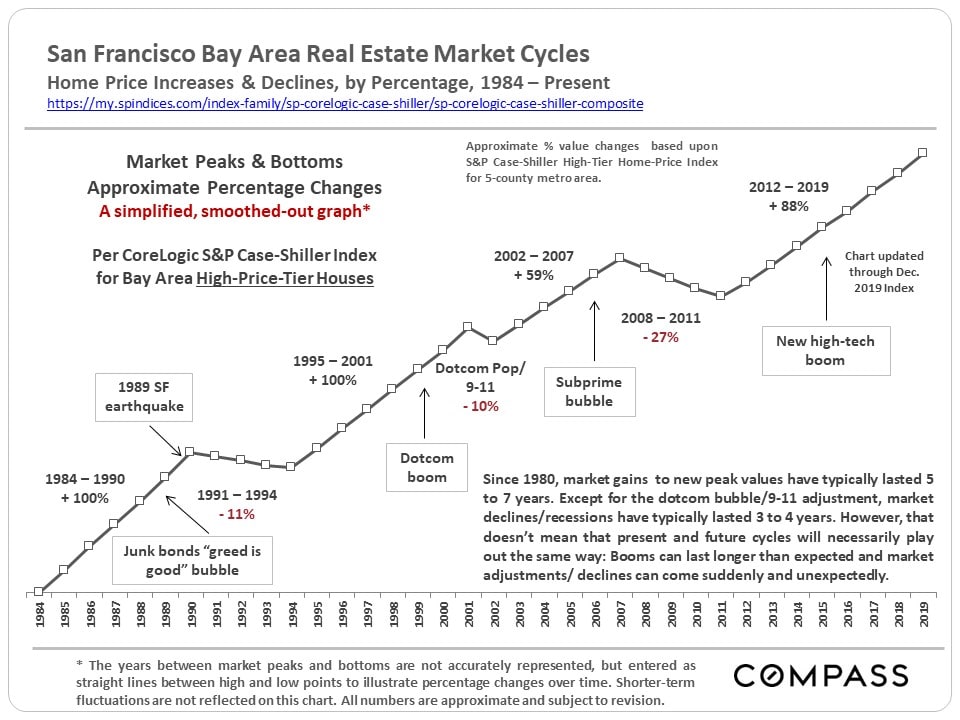 The following chart uses the median house sales price trends of 5 Bay Area counties to illustrate a simple fact: The entire Bay Area generally follows the same broad trend lines in market cycles. Of course, there are differences by location, property type and price segment, but overall cycles are very similar. (We picked 5 counties as samples, because adding them all over-clutters the chart.)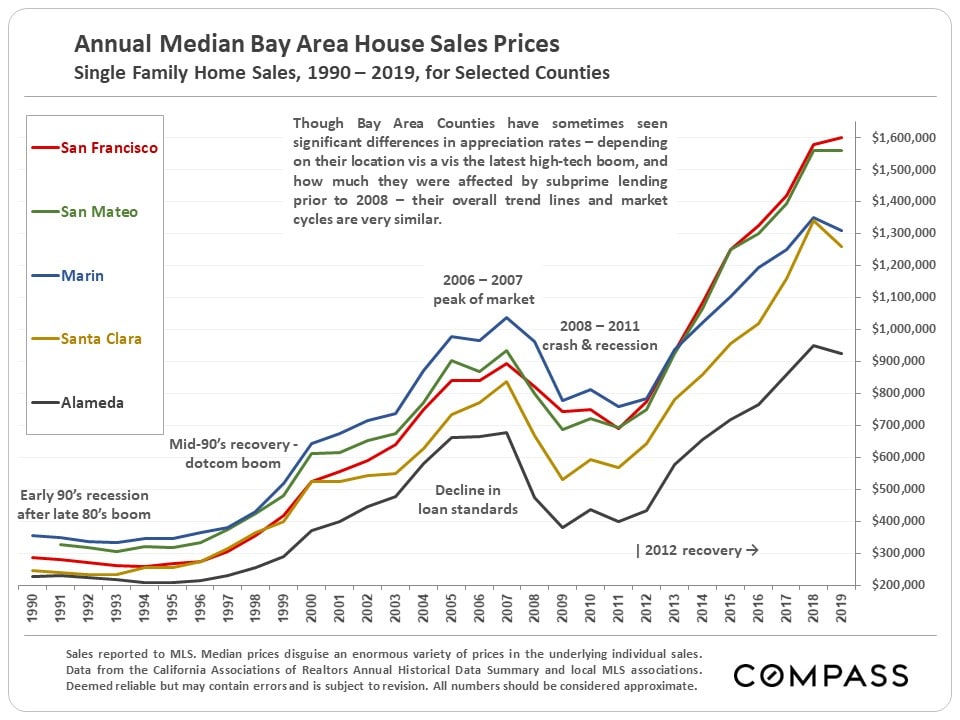 ---
The Confluence of Economic Indicators
The 3 charts below show how real estate market cycles generally move in sync with other economic indicators such as - using 3 examples - financial markets, employment and consumer confidence. The S and P 500 chart goes through the end of 2019 and does not reflect the crazed volatility created by the coronavirus situation.